NUMMI's historic journey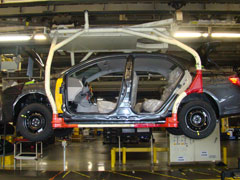 In 1984, General Motors and Toyota opened NUMMI as a joint venture. Toyota showed GM the secrets of its production system: how it made cars of much higher quality and much lower cost than GM achieved. But today, GM cars still don't have the quality of Japanese imports, GM is bankrupt and on March 31, NUMMI closed, sending thousands of car workers looking for jobs. In this hour-long story, NPR Automotive Correspondent Frank Langfitt tells the story of NUMMI and why GM – and the rest of the American car business – wasn't able to learn from it more quickly.
The closure of NUMMI is close to my heart as I was one of the first people in Canada to work with the original NUMMI team during the start of Canada's first joint venture, CAMI (Suzuki/GM joint venture). We worked closely with NUMMI transplant team to ensure that CAMI, Canada's first attempt to create its first "lean" plant, will be launched flawlessly while implementing all aspects of a lean system. In fact, I was the very first employee of this milestone joint venture "lean" plant.
This episode contains interviews with the following individuals: David Champion, Jeffrey Liker, John Shook, Bruce Lee and Joel Smith of United Auto Workers / UAW, Rick Madrid, Billy Haggerty, Richard Aguilar, Earl Ferguson, Ernie Schaefer, Mark Hogan, Steve Bera, Larry Spiegel, Dick Fuller, Geoff Weller and James Womack.
Brief History
1963: General Motors opens plant in Fremont.
1978: The GM plant builds 330,558 cars and trucks, its largest annual production.
1979: Employment at the Fremont GM plant peaks at 6,800.
1982: GM closes the factory.
1984: The plant reopens as New United Motor Manufacturing Inc., a joint venture between Toyota and GM. On Dec. 18, a Nova is the first car to roll off the assembly line.
1985: Nummi's 2,470 employees manufacture 64,764 vehicles.
1987: Canada's first joint venture, CAMI (Suzuki/GM), opens its doors
2002: Employment at the NUMMI plant hits 5,739.
2006: Production at the Nummi plant peaks at 428,632 cars and trucks.
2009: GM pulls out of the partnership.
2010: NUMMI Plant closes. CAMI remains as a strong player in the Canadian auto industry.
Click on the link below to listen to the free podcast about NUMMI.
NUMMI
(click "stream episode")